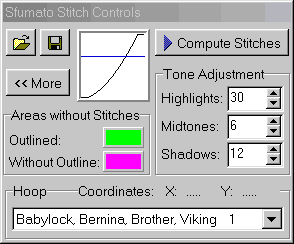 Hoop. Combo box for selection of hoop type and size. Only those parts of design, which are inside of hoop will be covered with stitches after computation, although Preview window shows whole design. You can move the hoop in the Preview window if you move the mouse with right button pressed.
Regarding hoop size: current version of Sfumato offers only three predefined sizes of hoops. However, you can always choose the maximum hoop, but make design (image) only as big as to fit into your machine's hoop. When Sfumato finishes the calculation, design appears in the Embird Editor window. Here, you can select the right hoop and finally save the design.You may ask why Sfumato offers 3 different hoops if it is always possible to use maximum hoop and then chose the right hoop later in Embird Editor. It is because when creating design for multiposition hoop (Viking Plus), Sfumato needs to know how and where it should split design.
Sfumato Stitch Controls window
More. Hit this button to access More Controls window.

Tone Curve Box. On this area, tone curve of image and horizontal line representing value of threshold of thread Color 1 and 2 are displayed. Usually, design created directly from photo (if tone curve would be straight) looks much different than photo. By deformation of tone curve you may enhance the look of design. Deformation of curve (or tone adjustment) can be done with use of Highlights, Midtones and Shadows controls. The course of tone curve determinates how input tones from photo will be transformed to output tones of design. Input tones are represented by horizontal axis and output tones by vertical axis. Bottom left corner represents black and top right corner represents white.
Highlights, Midtones, Shadows. Use these controls to enhance look of design in Preview window. Take a look at below picture of creating baby portrait to see how tone adjustment controls work. Fist picture (a) shows design created from photo with straight tone line. You can see that design is flat and without contrast. We can improve its look by decreasing the Midtones value (picture b), which means that dark tones and middle tones will by darker while leaving bright tones almost untouched. The design is still not very contrast. Therefore, we add more Highlights and Shadows (picture c).